Lepuco (Tianjin) Photoelectric Co., Ltd. is a wholly-owned subsidiary of Germany LPKF Laser Electronics Co., Ltd., its SMT template laser processing system, circuit board laser precision cutting processing system, three-dimensional circuit carrier laser technology, etc. are among the world's top Level.
Wang Xianlong, manager of laser plastic welding products at Lepuco (Tianjin) Optoelectronics Co., Ltd., introduced Lepuco's new laser plastic welding equipment for the automotive electronics and medical device industries . This equipment is suitable for small and medium-sized enterprises with small investment scale.
"Lecco is small in scale and has only 400 employees worldwide. However, the quality of the six major products we produce is world-class. We do not rely on price advantage to win, but simply win with quality products and services. Many Western automotive electronics giants are customers of Lepuco. We have been doing laser plastic welding since 2004 and have been focusing on the automotive electronics industry. The market has responded well since 2006, especially in 2010, the market entered a market. The extremely high growth period is also caused by the society's requirements for energy saving and emission reduction and high safety performance of automobiles." Wang Xianlong said that the domestic industry is still in the stage of starting and imitating, and there is no real automobile electronics in the strict sense. The supplier, he said: "We hope to increase cooperation with domestic manufacturers and expand the domestic market." In addition, he also hopes that mid-end customers can pay more attention to new processes and promote the popularization of new technologies in the automotive industry, thus promoting domestic automobiles. The upgrading of the technological level of the electronics, medical equipment and other industries.
Long distance LiDAR sensor IT03M series are particularly easy to communication thanks to their fixed connector, which can be plugged it up and off by yourself. Voltage is wider from 3.3v before to 3.6v. Low power consumption feature makes it beceome a very competitive, high performance-price ratio, long range Laser Distance Sensor.
Highlights:
> Measurement frequency: 100 Hz (Max 200 Hz)
> High temperatures: -10~+50℃
> UART output
> Connector design: easy to use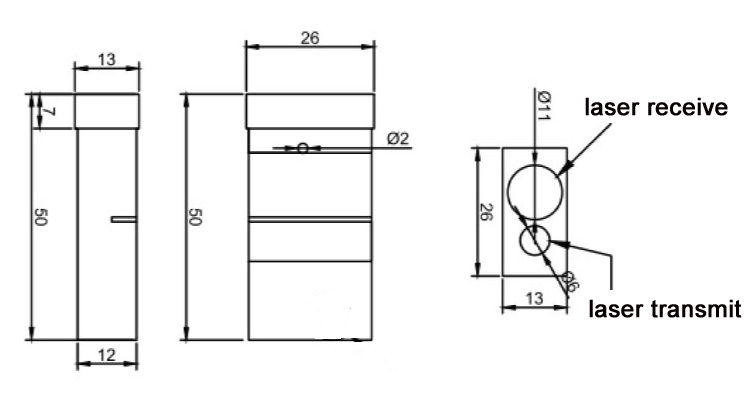 Parameters of IT03M:
| | |
| --- | --- |
| Accuracy | +/-5cm@ 0.1~2.5m |
| Measuring Unit | cm |
| Measuring Range (without Reflection) | 0.1-15m |
| Measuring Time | 0.1~3 seconds |
| Measuring Frequency | 100 Hz |
| Laser Class | Class II |
| Laser Type | 650nm, <1mw, red |
| Weight | About 10g |
| Voltage | DC2.5V~+3.5V |
| Serial Level | TTL 3.3V |
| Size | 50*26*13mm |
| Operating Temperature | 0-40 ℃ (32-104 ℉ ) |
| Storage Temperature | -25~60 ℃ (-13~140 ℉) |
Speed Laser Sensor,Long Range Lidar,Long Range 3D Lidar,Long Range Radar Sensor
Chengdu JRT Meter Technology Co., Ltd , https://www.cdlaserdistancesensor.com